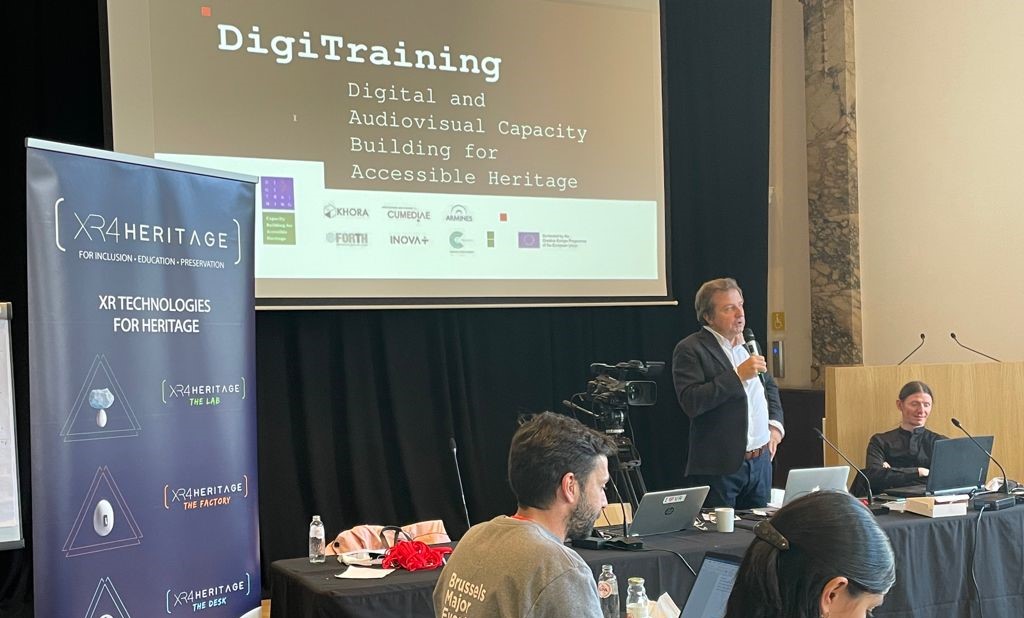 On September 1st, THE LAB incubator programme organised by XR4Heritage for the phygital transformation of culture and heritage, brought together cultural innovators to imagine, design and test new concepts of sustainable, viable and lasting cultural attractions. 
DigiTraining Project was represented at The LAB by CUMEDIAE's CEO and co-founder Ignasi Guardans who delivered a presentation on "The Digital Transformation of European Museums: XR, Good Practices, Trends and Opportunities" to an audience of curators and managers from major museums, cultural institutions and representatives of Belgium. 
Since the 2021 edition of XR4HERITAGE's THE LAB was reserved for promoters of innovative cultural projects, DigiTraining was inherently responsive to the incubation's objectives as a project which provides a large number of small or midsize museums, as well as other tangible or intangible cultural heritage organizations with new and upgraded digital audio-visual capabilities combined with the management tools and knowledge tools to maximise the benefit from them and to enhance the visibility of their organizations. 
As an ally to the DigiTraining project, THE LAB attempted to demonstrate and enhance the digital concept of experiencing culture, heritage and architectural heritage. As the COVID-19 pandemic continues to impact all aspects of our lives, digitalization and technologies stand out as grand solutions to the impediments that cultural and creative sectors encounter. In this sense, THE LAB and DigiTraining, by taking the outcomes of the pandemic as an advantage, promises an innovative and adaptive transformation within the cultural and creative sectors by enabling culture and art to be not limited to the location or availability of an artefact.